The Sales Refresher
By Brad and Boyd Liski 
Why do salespeople always need to be refreshed on the selling basics?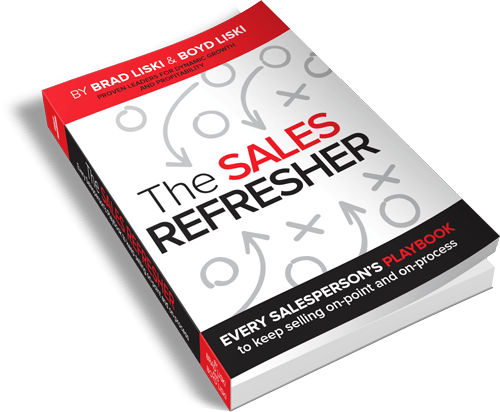 Many think that great salespeople are born. They believe that they are naturally skilled and unlike other professions, they actually are gifted at birth with the wiring to be a master in the art of selling. They feel that career maintenance and other training investments are a waste of resources – time and money. 
Wrong. Salespeople, like other professions, must continually reinforce and refresh the mastery of their fundamental skills to be successful and to reach their highest potential. Indeed, outstanding salespeople make it look so easy. However, higher performance usually indicates that a salesperson has invested the time to hone their skills and is continually engaged to better HELP their prospects.
That's why The Sales Refresher was created. This book's purpose is to help Sales Professionals (people who have chosen Sales as their profession) continually hone their skills, find new effective techniques or shift from aggressive win-at-any-cost sales to HELP-based selling with integrity.
Order The Sales Refresher Today:
What People Are Saying About The Sales Refresher
"Amazing results – global markets were captured, revenue more than doubled while our sales force was refined into a focused, motivated and profit generating asset."
"Brad and Boyd created a masterful sales playbook in The Sales Refresher that pinpoints the sales qualities and tactics that sales professionals need for success. A thoroughly impactful read! This book should be owned and mastered by anyone who is serious about a sales career."
"What a powerful playbook. Following the proven process and its precision was a game-changer in our business – both the top and bottom lines."
The Sales Refresher is a far and away the one book that can turn your frontline into a high performing, widely successful sales force. The content is sensible, commanding, and demonstrated well. So easy to master. You have to read this book.